Garage Door Cable Westchester NY
If you look closely at the mechanism of the overhead doors in Westchester County you will find that the door work with a system of coil springs and steel cables. It can be torsion coil spring system or extension coil spring system they both work with the assistance of steel cables which is a part of the mechanism of the door. The affect that snapped rollup garage door Steel cable has over the door is the same as the affect that a snapped coil spring has over the door and the way the door operate. The steel cable is the connection between the coil spring's system and the door, and it carry the weight of the door. When the steel cable snapped, it result with a garage door which isn't safe for use, and sometime when the garage steel cable snap the door can't even be opened. If you own a garage door in Westchester County, and the steel cable is snapped, you can choose if to replace the steel cable by "fix it by yourself" (Not recommended and potentially dangerous), or to call a nearby garage door repair company in Westchester County such as J&C Garage Doors and Gates to replace the steel cable with a new one.
Why the steel cable snapped?
Many home owners in Westchester County often wonder what the cause that the rollup garage door Steel cable snapped is. And it is impossible to give one general answer that will answer the question. We can give you few common reasons, but there are many other possible reasons why a rollup garage door Steel cable snap. It can be a garage door in White Plains, or snapped garage door in Scarsdale, the reasons are many.
Reasons why the garage steel cable snapped:
The rollup garage door Steel cable was overused, and wasn't replaced for many years. Like other parts of the garage door, they can break after different amount of years.

The door wasn't maintained for a long time, or wasn't maintain as often as required, like every overhead door in Westchester County should be.

The door, the mechanism, or the steel cables weren't installed properly, and over time the steel cable broke.

The steel cable was "touching" parts of the garage while the door was working.

The coil spring snapped: Many times the steel cable snap at the same time as the coil spring breaks.
What to do when the steel cable snap?
You need to understand that when the garage door is closed, the tension on the rollup garage door Steel cables is enormous, and this is the pint when most steel cables snapped. When the steel cable snap, the door might seem out of balance, or it can be impossible for you to open the door. Trying to force the door to work, or repeatedly trying to make the door wok can only lead to a greater damage, and can even end with injuries. The best thing for you to do will be to stop using the door, let other people who might try to use the door know that the door is snapped, and call a nearby garage door technician in Westchester County.
Replacing a snapped rollup garage door Steel cable is not a complicated task, and can be performed by every qualified garage door techs in Westchester County.
Where can I get a garage steel cable?
When it comes to buying anew rollup garage door Steel cable, or any other garage door part, you must realize that there are many different types of garage doors, and there are many different parts. The steel cable that will be the right steel cable for a single home garage door in Westchester County, might not be the right steel cable for a commercial overhead door, and vice versa. The same goes for coil springs, motors, hinges, rollers, etc. Two different coil springs, might look identical for someone who isn't experienced with garage door repairs. If you decided to buy a new steel cable, and replace the snapped steel cable by "do it yourself" garage door repairs, make sure that you are getting the right part.
How to replace a rollup garage door Steel cable?
If you decided to replace the snapped steel cable by yourself, and not to use a nearby garage door techs, who is experienced and qualified to service overhead doors in Westchester County, there are few things you need to know:
Replacing an overhead door steel cable can be complicated. There are some home garage door repairs that can be perfumed by DIY, and there are some repairs which shouldn't. To learn more about DIY garage door repairs, you can read the post written by Three Beaches garage doors, the post is about DIY garage Door repairs in Brooklyn New York. But can be helpful for garage owners in Westchester County like to fix their busted garage door by DIY.
In general, we are not big funs of "fix it by yourself" garage door repairs. In the majority of cases it just doesn't go smoothly, and the attempt ends with a bigger damage.
Does your company sell garage door parts?
There are many rollup door suppliers in New York. Some of them offer parts, and some offer the repair. We do not sell garage door parts in Westchester County any more. We used to supply parts, but the cases when the client couldn't complete the repair by himself due to lack of knowledge were too many. So we decided to stop selling parts.
But what we can say is that we carry steel cables for 95% of overhead doors in New York. We are ready for any service call, emergency repairs, same day service and more. Sometime it is garage door spring repair in Nyack New York, and sometime it is garage door steel cable replacement in White Plains. Whatever it is, J&C Garage Doors and Gates will be there for you.
Commercial Overhead Door Steel Cable
When the case is a jammed commercial overhead door, the question if to hire an expert or to try and replace the cable by "do it yourself" is off the table. When the case is a commercial garage door repair, you must use the services of local garage Doors Company to come and replace the cable for you. Repairing commercial overhead door is something that require knowledge and deep understanding of the overhead doors, and the ways to troubleshoot a jammed garage door. But not just that, servicing commercial overhead door in New York require special tools and parts that most handymen, and even some overhead door companies do not carry.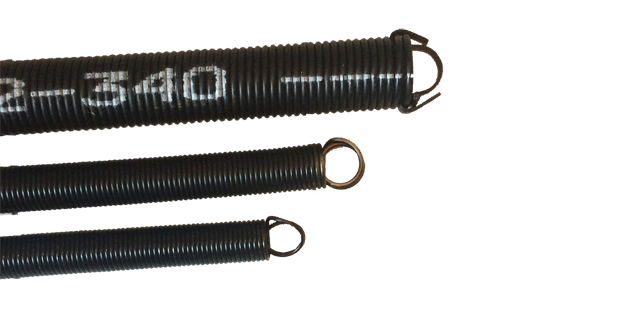 Steel cable replacement case study
We would like to share with you a story about a garage door repair DIY Case study, which will make it easier to explain why we avoid selling parts such as rollup garage door Steel cable. We once received a phone call from a customer with a snapped who needed garage door repairs near Ossining New York who told us that he is interested in purchasing steel cables, since the old steel cable snapped. We sold him set of 2 new garage steel cables. The same day he call again and tell us that our steel cables aren't good. We asked what makes him say that, and he tell us that since he couldn't make the door working again, he blame the steel cables.
We offered to send a garage door techs who will come and install the same steel cable we sold him. If the door will not work, we will repair the door for free. If it will work, he only need to pay for the labor. He agreed. It our techs 2 minutes to spot the snapped coil spring, and point to the customer. The customer apologized many times, and asked us to replace the coil spring.
This is just one of many cases where a client purchased a rollup garage door Steel cable, planning to repair the door by himself, and found that it is not as simple as he anticipated. We decided to stop parts to clients in Westchester County, unless we will also repair the door, since this is the only wat to make sure the door will work and will also be safe for use.
Garage Steel cable repair Westchester County
J&C Garage Doors and Gates repair all kinds of overhead doors in Westchester County. We carry steel cables for all types of overhead doors, and we can complete any steel cable repair/replacement in Westchester County on the first visit. We can replace snapped steel cable for commercial overhead doors, or home garage doors in Westchester County. If you are looking for a nearby garage door company in Westchester County, call J&C Garage Doors and Gates for same day service. You might be in need for house garage door repair in Greenwich, or commercial rolling gate repair, we can help you, and we can help you today. If you are interested in learning more about our services, we welcome you to check out J&C Garage Doors on Yelp, and read what our clients think about our services.
Garage door cable repair, Westchester County NY
Call Now: 914-364-6700