Tips – Overhead garage doors, Westchester County, NY
Often I am being asked: What is the cost of a new overhead door? But the thing with this question is that overhead doors doesn't have one price that include all doors. Different doors in Westchester County have different costs and require different methods of installment. J&C Garage Doors installed over the years overhead doors for different prices. From doors that cost $500 to overhead doors that cost $35,000. A lot depend on the door and on the overhead door installment. Some garages are built in a way that makes the installment more complicated, and some garages simplify things. The same goes for the doors: Some overhead doors in Westchester County are hollow steel doors, some are custom made wooden doors, and some are glass doors. It doesn't make sense to expect all of them to cost the same. You can't expect a residential garage door installation in Dobbs Ferry to cost as the price of industrial garage door in Mamaroneck.
What is wrong with my overhead door?
Again, just as the previous question, this is an answer that can't be answered with a single simple answer, unless that answer is "different things". There are so many parts that can break, and so many problems that can occur and prevent a garage door from working, and we can say that after more than 25 years of servicing overhead doors in Westchester County, we still get surprised sometime. But speaking in general, we can say that the problems are divided into few categories:
Motor issue: which include the garage motor and its accessories, including electrical issue. It can be an issue with the remote, the wall switch (push button) the safety sensors, and the key pad or even with the garage motor itself. And to be able to determine what the problem is, you might need a local garage doors expert in Westchester County who can locate the issue and take care of the problem that sometime means a completely new garage opener installation.

Issue with the mechanism: That include all parts of the door's mechanism such as the springs (Extension/torsion), the wires, the pulleys/the drums and more. In the event of a broken part, you will need to hire a local expert who can deal with such issues.

Issue with the door: Under this category we include the panels/sections of the door, and the hardware such as the hinges and the brackets that connect the panels.
Disclaimer: Broken garage door or broken rollup door can be dangerous. Use a local specialist who will come and inspect the door. If you need rollup door repair, J&C Garage Doors offer same day service in Westchester County and in New York.
Tips for industrial overhead doors
Unlike the home overhead doors, the industrial doors can sometime be operated many times a day, and when something goes wrong, or if someone accidently backed into the door with a car, using the door become risky. We know that when you can't close the door at the end of the working hours, when you just want to get home, it might seem tempting to try and use force to get the door to close. But it should be avoided, since any attempt to force the door to close can end with injuries. Just think about a heavy duty door, that weight more than 1000 Pounds falling from the tracks, or losing the balance, this is something so dangerous that it can end with tragedy.
And if you are worried you might need to wait many hours for someone to come and repair the door, know that J&C Garage Doors offer emergency service for overhead doors and rolling gates near Westchester County NY.
Roll Up Gates Tips
You might not know that, but industrial rollup gates work with the help of a steel spring. The spring is installed at the top of the gate, under the cover, but trust us, it is there. So if you have been wondering how come it is so easy to open the heavy steel push-to-open steel doors (Or any other type of rollup gates and gates), it is the spring. Many of you might not know it, but the industrial rolling doors require maintenance. And the biggest tip we can give you is to make sure a qualified tech will grease and inspect the rolling door to make sure it is both safe for use, and that it is in operable condition.
If you are avoiding the rollup gate maintenance since you are trying to save some money, you should know that ignoring the door and the need for greasing will end with a stuck or jammed rollup gate, and the repair can cost you like twenty maintenance services. And when it happen at bad timing (Rollup gates tend to get stuck at the worst timing), you will find yourself spending a lot of money.  So avoid the need for emergency services and hire a local technician to grease and tune your rollup gate.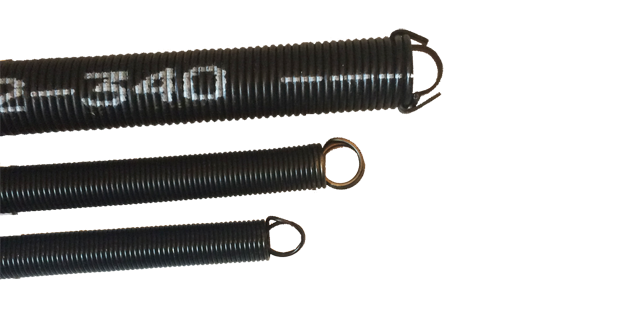 Tips for overhead door tune up
We take it as granted that our overhead door is working smoothly any time any day we use it. But the way to a perfectly operating overhead door start from high quality door, professional installment job, and no less important: on time tune up and lubrication. Do not assume that of the door is working properly today it will work the same way tomorrow. You must lubricate the door and maintain it. If we will go back to the comparison to the car we are driving, it also require oil change and tune up every period of time, or every certain amount of miles.
If you want to learn more about overhead door tune up (Residential overhead doors only!), you can watch the video bellow and learn how to maintain the overhead door. But before going and lubricating the door, you should know that overhead door tune up is not a replacement for overhead door repairs. If the door is not working, get stuck or if the door isn't working like it used to, there is a need for repairs prior to the tune up.
Tips for choosing the right overhead door
The best tip we can give share with you, and it goes for any overhead door, whether it is overhead door in Scarsdale, or overhead door installment door Greenwich CT, is to invest in quality. Sound obvious right? So we can tell you that it is not that obvious. Many home owners look for the cheapest overhead door installment, assuming that they are saving money by installing the cheapest overhead door. But what they do not know is that they might be saving money at the moment, but when installing the cheap overhead doors 2 things usually follow: The door will not operate as the quality doors would, and they might need repairs soon.
Quality does not end with how long the door will keep working. It also on how the door will work, and what will be the level of insulation the door will provide.
Tip: Even if your garage is detached from the house you live in, get an insulated overhead door. They are just stronger and better doors, regardless of the insulation. You might think that you do not need to spend more money on insulated door, but the insulated doors last longer, and preserved when being maintained on time for many years.
Tips for choosing garage motor
I personally replaced garage motors that were 30 years old or more. Some will say that they just don't make the motors so strong anymore. Some will answer that it is still early to know. But just as we recommended about choosing a new overhead door, and the same as we would recommend about many things in life, quality is your best friend when choosing a new overhead door motor.
It can be a Lift master motor, or Genie motor. Make sure you are choosing the right garage door motor for you. For example: The difference between a chain drive motor and belt drive motor is around 10-15% (The belt drive motor is a little more expensive), but when you look at it from the perspective of installing something that is going to serve you for 20 years, and sometime even more, that extra cost become reasonable. Very reasonable.
Now some will say that the belt drive motor is better and last longer than the chain drive motor. Some will agree and some will not, but the bottom line is: chain drive or belt drive motor, make sure you get a garage motor which was made from high quality parts.
It can be garage door motor in White Plains, or garage door opener in Rockland County NY, invest your money wisely and choose the high quality opener.
Conclusions and Tips
It can be someone who live in Scarsdale and looking for new garage door set up, and it can be someone who is in search for overhead door service in the Bronx. If you own a business, or planning on using the property for many years, or if you are looking for new overhead garage door for your home, Please invest in quality. You might be able to find handymen who will do for you a work for lower price (Note that we used the term "A job" and not "The exact same job": Always compare 2 apples). J&C Garage Doors also used to install cheap overhead doors up until few years ago. But when we noticed that the cheap doors only last for few years, we stopped. And we will prefer to pass a new overhead door installment to another contractor in Westchester, than to install overhead door that we know will not last more than few years. Even if the customer will tell us that he only plan to use the door for few years, we still refuse to install low quality door, or to perform a poor installment. We have a reputation in Westchester County, which you check out any time by visiting J&C Garage Doors Yelp page.
So after many words and few answers, the biggest tip we can share you with will be to invest in quality. After all, garage door installment is not something you do every year, and when it is a high quality garage door, it can last for 40 years if it is maintained on time. So invest your money Wisely, and use local quality service providers in Westchester county.
For garage door services, Westchester County, New York
Call Now: 914-364-6700